Intensive English Courses
Course Levels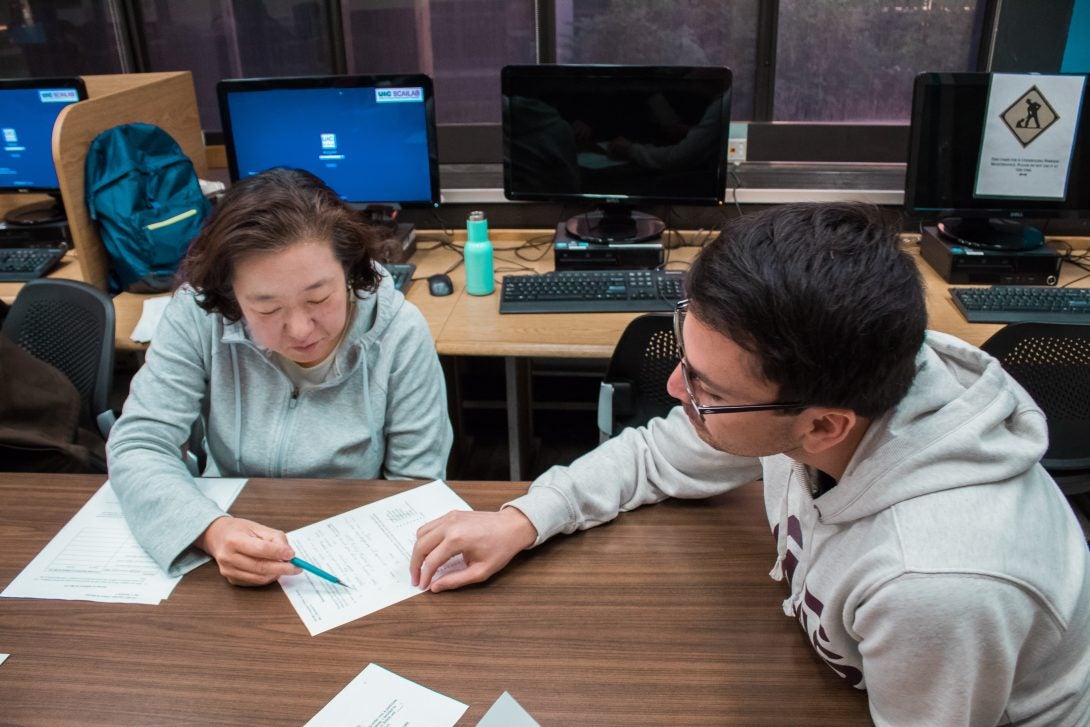 All new students at our Intensive English Program take comprehensive placement exams that test spoken English and written English skills before the first week of class. This determines their  Reading/Writing and Listening/Speaking levels.
Our Intensive English Program levels are:
Level 1: high beginning
Level 2: low intermediate
Level 3: intermediate
Level 4: high intermediate
Level 5: advanced
Read what a successful student can do at the end of each level.
Course Descriptions
Levels 1 - 4

Full-time Level 1 – 4 students attend Reading/Writing in the morning, and Listening/Speaking in the afternoon.

Part-time students choose either the Reading/Writing course or the Listening/Speaking course. Part-time students are NOT eligible for a student visa.

Reading/Writing students study:

Reading
Writing
Vocabulary
Grammar
Academic study skills
Intercultural awareness

Listening/Speaking students study:

Listening
Speaking
Vocabulary
Grammar
Pronunciation
Intercultural awareness

Level 5

In a 13-week semester, full-time level 5 students in the Intensive English program attend 8 classes. They take 4 classes in weeks 1-6, and 4 classes in weeks 8-13.

In a 13-week semester, part-time students in the Intensive English program attend 4 classes. They take 2 classes in weeks 1-6, and 2 classes in weeks 8-13. Part-time students are NOT eligible for a student visa.

Class time
Weeks 1-6
Weeks 8-13

Morning classes
ELSI 086, 088
ELSI 087, 089

Afternoon classes
ELSI 081, 083
ELSI 082, 084

ESLI 080*
ESLI 085*

*Required for full-time level 5 students only

ELSI 080 and ELSI 085 Advanced Professional Skills Lab
These courses are focused on providing the student with tools and support for managing time and completing academic assignments in their current 081-089 courses. Students will create study plans and utilize resources to complete assignments in an effective and timely manner.

ELSI 081 Communication Skills
This course is designed to help non-native speakers of English improve their speaking and listening skills in social, academic, and professional settings. Participants learn strategies for effective communication as well as techniques for improving pronunciation. Learners practice key vocabulary and American conversational expressions to gain confidence in a variety of situations.

ELSI 082 Discussion Skills
This course is designed to help non-native speakers of English develop social and academic discussion skills. Participants learn strategies to effectively and appropriately present, support and defend their viewpoints as well as techniques to engage in discussions and answer discussion questions. Students also learn applicable cultural norms and politeness strategies as well as improve pronunciation and vocabulary for more successful communication.

ELSI 083 Presentation Skills: Developing Effective Methods for Presentations
This course is designed to provide students with the knowledge and skills needed to respond effectively and professionally in planned and spontaneous public speaking situations. Students also increase their ability to follow advanced academic lectures and professional speeches.

ELSI 084 Delivering Effective Presentations in Your Profession
This course is focused on enabling students to deliver lengthy, formal presentations at such venues as conferences and business meetings and to conduct formal interviews. Aspects of presentation such as organizational patterns, types of requisite development, methods of audience interaction, and appropriate use of visual aids are addressed and practiced.

ELSI 086 Effective Written Communication
This course introduces learners to principles of effective written communication and critical reading. Learners will build proficiency and confidence as writers of English while improving reading and critical reasoning skills. Emphasis will be placed on the writing of academic and professional emails and summary and argumentative paragraphs.

ELSI 087 Approaches to Evidence-Based Writing
This course is designed to develop and sharpen learners' academic and professional reading and writing skills and strategies in English. Learners will build proficiency and confidence as writers of English while improving reading, critical reasoning, and research skills. Emphasis will be placed on research-based writing, including summary-response essays, an annotated bibliography, and a synthesized overview of selected articles.

ELSI 088 Critical Reading: Preparation for Written and Oral Communication
This class centers on developing the critical reading skills needed to both academically and professionally succeed. Through engaging with a variety of sources, students will apply the target skills both orally and in writing.

ELSI 089 Using Evidence-Based Writing for Your Profession
This course aims to apply critical reading skills to generate researched-based writing. Participants will critically analyze both general and field-specific writing samples, and will conduct further research within academic and professional contexts to help them produce foundational research pieces.

Elective Course Options

For one week every semester, Intensive English Program students choose elective courses on topics such as:

Business Writing
Country Music: Johnny and Friends
Debate
Focus on Film: Survey of American Animation
Getting Around in Chicago
Writing a Personal Statement
Language, Culture and Identity
Speaking to Perform
Program Schedule
The full-time program meets for 20 hours of instruction per week over 13 weeks
Note: For the fall 2020 session, classes are online.
Fall 2020 full-time schedule:
Monday through Thursday, 7 a.m. – 12 p.m. CDT
Includes breaks between courses, and an hour of asynchronous work
Use a Time Zone Converter to see when our program meets in your time zone.