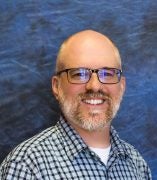 Dave Onufrock
Intensive English Program Chair
Contact
Address:
1333 S. Halsted St., Suite 260
Office Phone:
Email:
About
When I was a kid, I dreamed of writing children's stories, but I realized in college that I couldn't make any money doing that, so I studied Communications with an emphasis in radio broadcasting.  After graduating, I worked behind-the-scenes with a national radio program.
I soon realized that teaching was where I belonged, and have been teaching English to non-native speakers since 1996. I began at the Tutorium in Intensive English as a teacher in 1998 and became a Curriculum Coordinator the same year my 3rd child was born—in 2012.
Recently, my daughter challenged me to learn how to play the oboe with her.  It's very different from the trumpet, which I can play, but the musical skills I learned long ago in orchestras and choirs sure helped. I still enjoy reading children's stories, as well as taking bike rides, and doing things with my family.
Education
B.A. Communications/Broadcasting, North Central College, Naperville, IL
M.A. in Intercultural Studies and TESOL, Wheaton Graduate School. Wheaton, IL
Licensures and Certifications
Professional Memberships
ITBE (Illinois TESOL - BE)
TESOL (Teachers of English to Speakers of Other Languages)
Selected Presentations
A Toolkit of Ideas for Organizing Your Teaching (Co-presenter) (2013)Building Cooperative, Multi-level Classes, guest lecturer in a TESOL undergrad class (2014)
Four Ingredients to Successful Student-driven Vocabulary Building (2003, 2004)
Managing your Professional Life (May 2002 to 2015, 2018)
Mistakes I've Made Teaching Low-level Learners (2012)
New Trends: Using a Student-Centered Approach to Teaching English (2015, 2017)
Six Strategies for Inspired Student Storytelling (2002, 2011)
Student-Driven Online Lecture Listening (2010)
Teaching Conversational English (2009)
Testing Grammar/Vocabulary and the TOEFL, guest lecturer in Principles of ESL/EFL Assessment class (2005)
The Role of Phonology in L2 Reading (Co-presenter) (2014)
Understanding How People Learn Languages (2010)
Using Strategies to Help ESL Students Become Skilled Readers: Targeting Reading Skills in the ESL Classroom (2008, 2016)