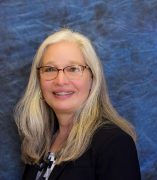 Debbie Sandstrom
Associate Director
Contact
Address:
1333 S. Halsted St., Suite 260
Office Phone:
Email:
About
I'm a longtime Tutorium instructor who arrived at UIC as a young teacher and stayed because I loved nearly everything about the work. My years at the Tutorium have been full of wonderful students from more than 40 different countries. Watching and helping students achieve their goals is an enormous pleasure. One of my favorite things about teaching is hearing students' questions and being able to provide answers. I love to see students apply what they are learning.
Professionally, I am interested in issues of accreditation and exploring the issues of what makes an English Language Program the best it can be. I was a Commissioner for the Commission on English Language Program Accreditation a number of years ago and have maintained my involvement with the organization ever since.
On the personal side, I take great joy in cultivating flowers in my garden, spending time with my family and friends, traveling, cooking and reading.
Education
M.A. in Applied Linguistics, TESOL emphasis, Northeastern Illinois University
Licensures and Certifications
Former CEA Commissioner and Chair
CEA Staff Analyst
CEA Site Reviewer
Professional Memberships
TESOL International
Illinois TESOL/Bilingual English (ITBE)
Selected Presentations
Broomhead, A, & Sandstrom, D. (2015, March). Meeting the Student Assessment Challenge in IEPs. International TESOL, Toronto, Canada.
Hochstien, D, O'Donnell, T. & Sandstrom, D. (March, 2009) Pre-Convention Institute,                Aligning Curriculum Objectives, Learning Outcomes, and Assessment, International TESOL, Denver, CO.
Donley, K., & Sandstrom, D. (2004, February). Teaching Advanced Students to Facilitate Book Discussions. Illinois TESOL/BE, Chicago, IL.