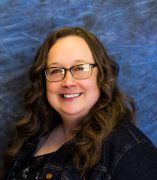 Trischa Duke
Accelerator Program Chair
Contact
Address:
1333 S. Halsted St., Suite 260
Office Phone:
Email:
About
I've been teaching for over 25 years, including junior high and high school English, college composition, intensive English, and academic English for international students. I started working with the Intensive English Program in 2010, and with the undergraduate pathway when that program started in Spring 2017. I've met some fantastic students at UIC!
Although I'm originally from Louisiana, I love living in Chicago. I've been here for 15 years. I love learning about new cultures and ways of life and am excited to get to know new people. In general, I enjoy spending time at home with my cats, trying new restaurants, reading, cooking and baking, and shopping.
Education
M.A. in Applied Linguistics/TESOL, University of Illinois at Chicago
M.A. in English Literature, University of Louisiana at Lafayette
Licensures and Certifications
CEA Site Reviewer
Illinois Professional Educator License (Secondary Language Arts)
Illinois English as a New Language Endorsement
Professional Memberships
TESOL International
Illinois TESOL/Bilingual English (ITBE)
National Association of Bilingual English (NABE)
National Council of Teachers of English (NCTE)
Selected Presentations
"But I'm Not ESL": Understanding and Respecting Identities While Addressing the Unique Needs of University Pathway Students (co-presenter) (2019)
Fostering Teacher Agency Through reflective, Collaborative Peer Observation (co-presenter) (2019)
Bridging the Gap to Comprehension: Virtual Reading Groups with Blackboard Collaborate Ultra, Google Hangouts, and Zoom (co-presenter) (2019)
Electronic Language Translators: How Do We Successfully Incorporate Them into English Composition Classrooms and Programs to the Benefit of Our Students?(co-presenter) (2018)
Incorporating Study Skills into an IEP (or Any) Classroom (2015)